FPM Monthly interview Who are you ?
I am Javier Verdú, I live in a town in the province of Castellón, 30 minutes from Valencia, I am 34 years old, have two children and my hobby and passion has always been fireworks. I have been in the pyrotechnics sector for almost 15 years, I am passionate about making and shooting shows. I have worked in several countries like:
- Kuwait (Parente ape) First Guinness World Record 2012 largest fireworks show.
- Saudi Arabia -Ryadh (Fireworks by Grucci) Three Guinness World Record largest fireworks show.
- Chile- New Year at Sea (Group Mario Igual)
- France (Zaubermond Artifices) National Day.
- Spain (Ricasa and Fireworks of the Mediterranean) Main Competitions and Cities.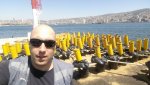 For which company are you active in the industry?
The company I have been working for for several years is Fireworks of the Mediterranean we are specialists in thunder and authorized manufacturers of any type of pyrotechnic product. We are a staff of 20 men and women, our factory is in Villamarchante (Valencia), our warehouses have a capacity of approximately 15,000kg, our firing system is Pyroneo.
What position do you have in the fireworks industry?
I currently hold the position of 1st officer in charge of the aerial, section digital effects and Gunpowders.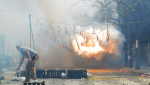 How did you get the passion for the fireworks and how old did it start?
My passion began when I was 9 years old, already then I was curious about pyrotechnics, and I began to know more by watching shots of the Fireworks Brunchú in my town. As a teenager, I
made inventions in my house with the occasional scare, on weekends I used to go to the towns to see shots. As an adult, I decided to dedicate myself to work in this wonderful sector, until today.
What is your favorite show that you shot or witnessed yourself? (Link)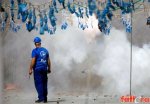 If I had to choose a show it would be very difficult for me, the places that have marked me the most are the fallas of Valencia (mascletá Town Hall Square) and Adelfia:
The mascletá is a Valencian ritual, there can be no mistakes and you don't have another chance, it is my place and my land. For 5 or 6 minutes you have to show good work and execution, every time I shoot there, I still get nervous!
Adelfia: for me it is the cradle of craftsmanship, it is the pure Italian school, gearbox or repetition housings, large calibers, cylindrical housings are my favorites and final downloads is the part I like the most, knowing how to work the thunder to perfection. I leave you the link of the shot that has marked me the most in Adelfia, from the house
L'ARTIFICIOSA DEI F.LLI DI CANDIA, for me, the number 1, and I was lucky to see it live !!
¿ Which product makes your heart beat faster?
I could not tell you a specific effect because I like them all, although one of the ones I like the most could be lightning (especially Galician lightning) and thunder, as a good Valencian, I like thunder.
As a product, I like large caliber housings and cylindrical repeating housings, and lastly Roman candles, it is a product that makes a difference in any show.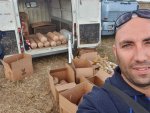 What are your top 3 effects?
Lightning, thunder and kamuro.
What's on your fireworks bucket list?
On my wish list I have several; Montreal, Pyrofest, Hannover ... any event with a good
budget is a wish nowadays, not everywhere you can make a good design if you don't have a good budget.
What moment still gives you goosebumps?
I couldn't stay with one in particular, but maybe it would be the first time I visited Adelfia and I could feel the Italian roar:
-More powerful: Adelfia-San Trifone.
-More emotional: The first time I shot in my city.
-Most spectacular: Kuwait 2012 with Parente Fireworks
Finally I would like to thank Freakpiromaniacs for the good video and photo work to visualize our work.

See you on the shooting field!

Thanks a lot